The Firefly Family is a family of serial killers that appear in both
House of 1000 Corpses
and
The Devil's Rejects
.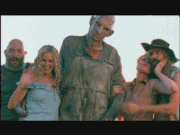 House of 1000 Corpses
Edit
In House of 1000 Corpses we are first introduced to the Firefly family.
Seven Months In-between
Edit
During the seven months between the events of House of 1000 Corpses and The Devil's Reject it marks the beginning of the end for the Firefly Family. During these seven months Grandpa Hugo Firefly dies. It is not stated what his determined cause of death was but it is assumed to be of natural causes.
The Devil's Rejects
Edit
This movie takes us through each death of the Firefly members.
Ad blocker interference detected!
Wikia is a free-to-use site that makes money from advertising. We have a modified experience for viewers using ad blockers

Wikia is not accessible if you've made further modifications. Remove the custom ad blocker rule(s) and the page will load as expected.