Candy was a prostitute under the employment of Charlie Altamont. According to Charlie, she earned the most money out of all of his workers. Candy was there with Charlie when he greeted his family, taking an interest in Otis Driftwood. In a deleted scene, Otis and Candy were seen spending time together, trying to decide how they wish to have sex with one another by looking at a "menu". Candy's attraction towards Otis is proven when she offers him a discount on a particulary expensive "sex game" known as "The All-American Ass Party". Unfortunately, while the two were fooling around, one of the Unholy Two burst into the room. Candy attempted to defend herself and Otis, but was shot fatally in the head before she could do so. Otis was angered by this, but failed to avenge her death.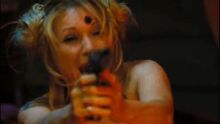 Candy was portrayed by E.G. Daily.
Ad blocker interference detected!
Wikia is a free-to-use site that makes money from advertising. We have a modified experience for viewers using ad blockers

Wikia is not accessible if you've made further modifications. Remove the custom ad blocker rule(s) and the page will load as expected.